Silver Dollar Blog Posts - September 2011
Sep 30, 2011
First let's talk about how to properly store your Morgan Dollar. Silver tends to oxidize easily when exposed to air so you want to make sure you keep them in an air tight environment. You can purchase a special non-reactive plastic container to store your Morgan Dollars in. If you're storing yourself be sure to handle the coin as little as possible and only hold the coin by the rim. Another idea is to have your coin slabbed from a grading service. "slab" is when a grading service inserts you coin in a protective plastic holder. If you're in possession of a rare and valuable Morgan Dollar I would recommend having it slabbed. The import thing to note is your coins needs to be stored in non-reactive individual container once you have your Morgan safely stored away you'll want to think about security.

How should you protect your Morgan Dollar Collection? If you choose to keep your collection in your house I would invest in a fireproof, waterproof safe to store them in. You might be thinking a home safe is just too expensive, but the prices are actually pretty reasonable. You can tuck the safe in the back of your closet or if you're feeling a little more adventures buy a wall safe. Next don't advertise to every single person you know that behind the painting in the living room is a wall safe and behind that you have your most valuable positions. If you don't want to store you Morgan Dollar collection in your home you might think about storing them in a bank safety deposit box. The fee is usually a small annual fee and accomplishes the same as a home safe keeping your Morgan Dollars safe from theft, fire and water damage. Call your local bank and see what their rules are surrounding a safety deposit box. Some banks allow you 24 hour access to your safety depot box.

Coin collecting might start as a hobby, but will quickly turn into an investment!
Add Comment
---
Sep 29, 2011
If the first Morgan Silver Dollar was minted in 1878 we only have to go back 85 years to 1793 to find the first coin minted in the United States. During George Washington's presidency the half cent sometimes called the half penny was the first minted coin in the U.S.
The size was slightly smaller than our U.S. quarter of today made of 100% copper. The coin ran from 1793-1857. The half cent has no mint mark on the coin itself, but every half cent was minted in Philadelphia. There were a few different design's that appeared on the half cent:

Liberty Cap Half Cent - 1793 - was the first coin issued by the U.S. Mint
Liberty Cap Half Cent 1794-1797
Draped Bust half cent 1800-1808
Capped Bust Half Cent 1809-1836
Half Cent Token 1837
Braided Hair Half Cent 1840-1857
A half a penny today wouldn't buy you much actually I don't think a half a penny could buy you anything. Back in the day when an average working person would earn about one dollar for an entire day's work. In 1793 a half penny could actually buy you useful items.
Before the half cent there were colonial coins which could be tokens, medals or coins!
Add Comment
---
Sep 28, 2011
People who collect and invest in Morgan Silver dollars can span many levels of expertise relating to coin grading. We wanted to give a quick intro to the novice collector or people that are just curious about coin grading in general.
It is important to note that these grades are just personal opinion and will often be disputed unless your coin is professionally graded by a grading service or by a qualified appraiser . When it comes to coin value, the proper and accurate grade can be mean hundreds, if not, thousands of dollars.
Here are a few acronyms you might see while researching Morgan Dollars:
F (Fair) It's fair to say you know what type of coin it is, but will have an extreme amount of wear. Often times these coins are called filler coins since you can fill missing coins in your coin collection since the price is affordable.

AG (About Good) This would be a very worn coin falling below the grade of good. Some of the design might be worn off.

G (Good) Would stand between About Good and Very Good

VG (Very Good) well worn coin, looks flat and lacks detail. You should be able to see the full rim around the edge of the coins still.

VF (Very Fine) light to medium wear, the main features will have a sharp look to them. Some of the other features like hair details might be worn.

F (Fine) Moderate to heavy wear. a fine coin Is just that it's o.k. a good portion of the details are gone, but you can still see a fine design.

XF (Extremely Fine) very light wear most devices on the coin are visible.

A few other common terms you will hear when researching Morgan Dollars:

AU (Almost Uncirculated) Very hard to tell the difference between almost uncirculated and circulated. Note the small trace of wear that would be visible on the highest points.

BU (Brilliant Uncirculated) a way to describe an unciruclated coin that still contains that brilliant luster on it.

PF (Proof) These coins are struck for collectors. Since they are produced using a polished die the result is a frosted appearance.
Add Comment
---
Sep 27, 2011
You might keep seeing the word VAM associated with Morgan and Peace dollar die varieties.There is a book called The Comprehensive Catalog and Encyclopedia of Morgan and Peace Dollars by Leroy C. Van Allen and A. George Mallis. If you take the first letter from both their Last name you end up with VAM.
You might find collectors collecting Morgan Dollars using VAM designation. The top 100 VAMs are highly collectible.
The Morgan Dollar ran from1876-1904 plus a brief appearance in 1921. The Peace Dollar also ran in 1921 - 1928 plus 1934 and 1935.
Add Comment
---
Sep 26, 2011
The 52 week high for silver price is $48.48 with a 52 week low of $21.46. Now listen to this, at the beginning of September the price for silver was in the $40 dollar range. But today as of this posting Silver is $28.49 per ounce!
Why have we been watching Silver drop? A couple different theories I read about... Report has it that hedge funds have been selling off all forms of precious metals. Precious metals would be gold, silver, coppery palladium and platinum.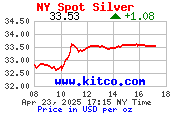 But what about this in New York the Dow Jones Exchange operator CME Group Inc. said when trading in gold and silver futures the collateral requirement s would be raised. A Silver investor would be required to have more than 16% equity in their accounts to buy silver futures contracts.
Whatever the reason Silver prices at the moment are going down. Take note of what the Silver Spot Price is at this exact moment with the up to date chart below.
Add Comment
---
Sep 24, 2011
At some point in your coin collecting life you will start collecting rare and collectible coins. So it's good to get in the practice of holding your coins the correct way. This video talks about how to handle your coins.
In the video he uses an
1884-CC Morgan Dollar
as an example. The main point is never touch anything except the rim of your coin. Putting your fingerprints on the obverse (head side) or reverse (tail side) of the coin may leave a print that may become come acidic over a period of time.
Add Comment
---
Sep 23, 2011
If you collect coins or need to know the value of a particular coin most likely you have heard about the "The Official Red Book" This book is great for both the novice and professional collectors. Today the 2012 version is 32% off at Amazon bringing your total down to the low price of $10.17.
Here is the Official Product Description for the 2012 Guide Book of United States Coins:
Product Description

The Official Red Book A Guide Book of United States Coins is 65 years young and going strong. Collectors around the country love the convenience of the spiralbound edition. It opens up and lies flat on the table while you study your coin collection. And of course it includes all the historical background, detailed specifications, high-resolution photographs, and accurate mintage data that turn a new coin collector into an educated numismatist. How rare are your coins? How much are they worth? The Red Book tells you, covering everything from early colonial copper tokens to hefty Old West silver dollars and dazzling gold coins. You ll find prices for more than 6,000 coins, tokens, medals, sets, and other collectibles. You ll also round out your education in commemoratives, Proof and Mint coins, error coins, Civil War tokens, Confederate coins, private gold, and all the latest National Park quarters, presidential dollars, Lincoln cents, and more. Articles on investing, grading coins, and detecting counterfeits will make you a savvy collector; and entertaining essays on the history of American coinage, shipwrecks and hoards, and famous collections give you an inside look at the hobby of kings. These are just some of the features of the informative, entertaining, invaluable Red Book the world s best-selling coin price guide.
Add Comment
---
Sep 22, 2011
We all start coin collecting for different reasons. Some might start because they are looking for a good investment opportunity. Yet there are others that wouldn't sell our coin collection even if the price of silver sky rocketed to the top because we do it for the love of the hobby. Maybe your grandpa gave you a 1889 Morgan Dollar, once he put that coin in your hand you were hooked. Whatever your personal reason you will find more history then you could ever imagine, different periods in history to collect, and you'll definitely find some new friends along the way. It's the journey to find the coins which is exciting!

First what type of coin do you want to collect? You can start with the new state quarters if you want. Do you want Silver, Gold, Pennies, Nickels, Dimes, Quarters, Half-Dollars, and Silver Dollars? That would be completely up to your discretion.

Next you have to decide how you are going to store your coins. At first you might toss your coins in an old shoe box. After awhile you will want to put them on display. That is when you might want to think about purchasing some coin sleeves.

And lastly don't get discouraged if you can't find the one you are looking for today. Coin collecting is a long process one that can take your entire life to complete. Even then there will always be coins you want to purchase. Just remember it's the journey that is so exciting!


Add Comment
---
Sep 21, 2011
If you're visiting the Morgan Dollar Store you most likely have a passion for collecting Morgan Dollars. But how much do you really know about the history of the Morgan Dollar. Most of us know the Morgan Dollar was minted between1878-1904 plus that brief moment in 1921. You might already know that George T. Morgan was the mint engraver in the United States at the time, but what about the history.
Did you know in February 28th, 1878 the Bland-Allison Act was passed. Bland being a representative from Missouri and Allison being a representative from Iowa put this bill into action stating the treasury department should buy 2-4 million dollars of silver bullion. As you can imagine this definitely helped out silver miners since it bought out a large portion of the silver on the market?
I thought this video was amazing! A great way to learn about the history of Morgan Dollar in a fun yet informative way. So site back grab a cup of coffee if you like and enjoy!
Thanks markapsolon for creating such a fun and informative video about the history of Morgan Dollars!
Add Comment
---
Sep 20, 2011
If you're into coin collecting you might have tried your hand at metal detecting as well. If you haven't it might be a good time to think about it. After the first time I went metal detecting I knew this was the hobby for me. There is a thrill when you hear your metal detector start beeping. What could it be, it might be an old nail, perhaps some old keys but it might be something else. Finding a small piece of the past that has been buried for over 100 years is amazing to me. You can just image some body walking along maybe he had a hole in his pocket maybe they just tripped. Whatever the cause you are now the one holding this coin. Once you start you might not want to stop!

I found this video from TreasureFiend where he finds a 1892 Morgan Dollar while out on a hunt on 4/20/11. You can hear the excitement in his voice when he finds the Morgan Dollar. His hands start to shake in the excitement of the moment. That is exactly how it feels out there!
Not only did he find an 1892-S Morgan Dollar with his Minelab Se Pro he also found an 1881 Indian head, 1915, 1916 and a 1941 Wheat Cent plus a 1920 buffalo nickel. Not a bad hunt!
Add Comment